TECHNOLOGY Makes It Best!
ONLY DEJACQUES has a mechanical device with moving parts — housed within a quick attach / release clasp and a non-slip slide.
ONLY DEJACQUES has mechanical clasp and slide parts that are precision molded of superior engineering grade acetal resin with 25% glass content to control shrinkage and increase strength. (Interior dimensions must be exact to allow proper control — movement & placement — of interior moving parts.)
Mechanical parts — clasp and slide — are bonded by "sonic welding" technology.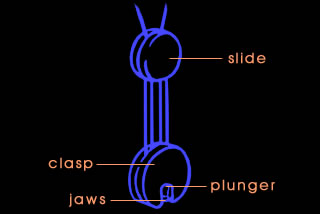 ONLY DEJACQUES has moveable "jaws" within clasp interior that grip instrument ring as it is pushed against small visible portion of jaws and holds instrument securely till ring is pushed backward into clasp opening against a small "plunger" that activates a small interior compression spring which, in turn, causes jaws to open, allowing user to release instrument with a rolling / sideward motion while holding jaws open by maintaining pressure against "plunger" till instrument is removed. (User must never attempt to remove instrument by pulling downward.)
Steel jaws are tumbled to eliminate sharp edges and friction then tempered to retain 43 degree angle — essential for proper interior movement (unseen interior provides "action"). Jaws must ALWAYS move freely.
Jaws have been stress-tested to 120 pounds tensile strength.
Cord tests to 250 pounds tensile strength.
Neck band is 100% cotton with leather end pieces, providing comfort without added bulk. NOTE that ONLY the cotton portion touches user's neck. Leather pieces are placed so that leather does not come into contact with user's neck. Cotton portion is soft & absorbent and it breathes!
Entire strap weighs less than two ounces.
The DEJACQUES Saxophone Strap is an original invention, designed and fine-tuned to provide a light, flexible link between musician and instrument, enabling greater freedom, ease — and control of your instrument.
ONLY DEJACQUES offers this unique, one-of-a-kind Saxophone Strap. The best Saxophone Strap.
TECHNOLOGY Makes it best!